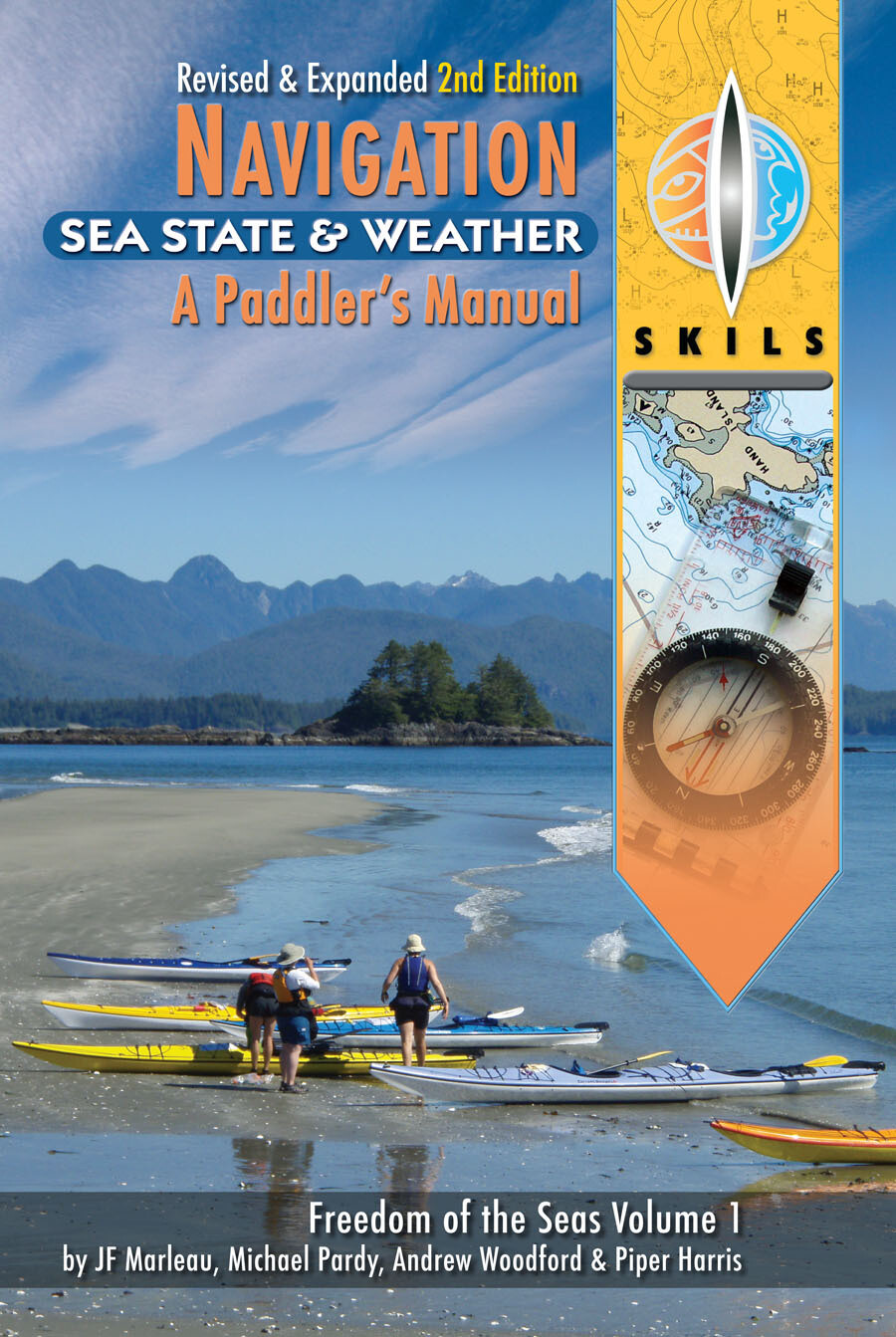 Navigation, Sea State, Weather -A Paddler's Manual. Freedom of the Seas Volume 1. 2020. Second Edition (Paperback). Available January 8, 2021.
SKU 4
Product Details
Written by Michael Pardy, JF Marleau, Andrew Woodford and Piper Harris. Published by SKILS.
Paddlers journey along the boundaries between sea, air and land. Volume 1 of the Freedom of the Seas series contains an important slice of paddling knowledge regarding these boundaries and information about navigation, sea state and weather. We have combined these three knowledge sets into one book for a simple reason: on the water, they are inseparable.
Freedom of the Seas, Volume 1
is intended as a reference for kayakers and canoeists touring large bodies of water. This book is written from a Canadian perspective. The examples in this book are drawn from across Canada, but the lessons can be applied anywhere in the world.
In this book you will learn to:
Read a chart
Navigate using numerous techniques
Use a compass to take bearings and steer a course
Understand and predict tides and currents
Avoid collisions with other vessels
Understand waves and surf
Distinguish different forms of sea ice
Understand weather phenomena
Observe, record and predict the weather
Make the most of marine weather forecasts
And much more
Ten years after the release of the first edition, we are excited to release this revised and
expanded second edition with up-to-date information, new drawings and graphics, and tips to
improve your skills and knowledge. We are grateful for some fantastic feedback from SKILS
staff and students on how to improve the content and make it easier to understand some complex
theoretical concepts.

For the past 18 years, the authors have developed training manuals for SKILS programs. These
manuals are currently being expanded and polished and will become books as part of the
Freedom of the Seas series. In 2021, we hope to finalize volume 2: Sea Kayak Touring. A
Paddler's Manual.
Save this product for later