SKILS works with some of the best in Canadian paddlesports and each of our team is personally committed to paddling. This commitment is backed up by years of personal and professional experience but even that's not enough for us – all our team also actively work to support paddling through a variety of activities that include writing articles and books, sitting on Boards of Directors, volunteering time with youth programs and local clubs, and running paddling programs for other organizations.
JF Marleau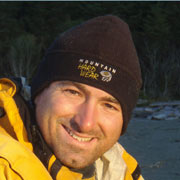 Born and raised in Trois-Rivières, Quebec, Jean-François (JF) moved to Ucluelet, on the west coast of Vancouver Island, in 2001 to work as a kayak guide and learn English. The west coast lifestyle and beauty captivated him, and he stayed. JF has taught kayaking and guiding expeditions full time around the world since 1998. Almost all the long overnight expeditions JF has guided since 2014 are in challenging class 4 waters in British Columbia, Patagonia, Antarctica and South Georgia.
JF is one of only three people to ever achieve the highest level of certifications with Paddle Canada and the Sea Kayak Guides Alliance of BC (SKGABC). He is a certified Level 4 Guide, Guide Trainer and Examiner with the SKGABC and he served as their vice-president for 14 years. He is a certified Level 4 instructor and Level 3 Instructor Trainer with Paddle Canada. He owns and runs SKILS, Canada's leading paddle sports training and consulting business.
JF has done long, personal and challenging kayaks expeditions in the Arctic, Gulf of St Lawrence, Labrador and along almost the entire coastline of British Columbia including circumnavigating Haida Gwaii.
JF is a pioneer of kayak fishing in Canada and developed kayak fishing courses and guided trips. He's the author of books and training manuals and wrote the kayak fishing chapter in John's Dowd classic book Sea Kayaking: A Manual for Long-Distance Touring. He holds many diplomas, including a Master's degree in Industrial Relations and a Bachelor of Art degree in Political Science from Laval University.
He loves to communicate his passion of sea kayaking and use humour as a teaching tool. If you have never met JF before, it is easy to pick him out of the crowd, as his strong French-Canadian accent cannot hide him for long.
Michael Pardy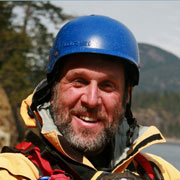 Michael is the past president of the Sea Kayak Guides Alliance of BC. He is also a Lead Guide, Guide Trainer, and Examiner with the SKGABC. He is a Senior Instructor Trainer with Paddle Canada. Guiding and instructing paddlesports for over 30 years, Michael also has extensive retail and business experience in paddle sports. He coauthored two books including the 2002 Handbook of Sea Kayak Safety and Rescue, published by Ragged Mountain Press. Michael is one of only three people to ever achieve the highest level of certifications with Paddle Canada and the SKGABC. When he is not kayaking, Michael teaches at Royal Roads University and Camosun College.
Justine Curgenven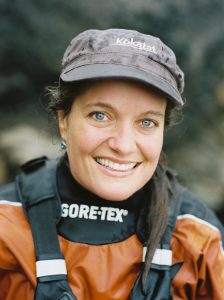 Justine is an award winning adventure filmmaker and expedition sea kayaker. She has been on challenging expeditions around the globe, including circumnavigating the south island of New Zealand, Tasmania and the Queen Charlotte islands, a solo trip around Vancouver island, a 2500 km traverse of the Aleutian islands and a wilderness journey in Kamchatka with a novice Russian kayaker.
Justine runs Cackle TV and created the highly acclaimed "This is the Sea" series of sea kayaking DVDs. Her films have won over 20 prestigious prizes including best film at Graz Mountain Film Festival and best adventure film at Banff & Kendal Mountain Film Festivals. She's been runner up in CKUK magazine's "Paddler of the Year" & a finalist in Canoe & Kayak Magazine's "Female Paddler of the Year" and "Expedition of the Year".
She was named as one of the UK's top 20 living explorers by 'The Telegraph' and was invited to meet the Queen at a Buckingham Palace reception for adventurers. In 2016, she won "Media Professional of the Year" at the World Paddle Awards.
Justine represented England in the surf kayaking World championships and honed her rough water paddling skills in the tidal races of North Wales. She now lives in Ucluelet on the west coast. Justine is a SKGABC Guide Trainer and Level 4 Guide, BCU 5 Stars and Paddle Canada Level 3 Instructor.

Erik Ogaard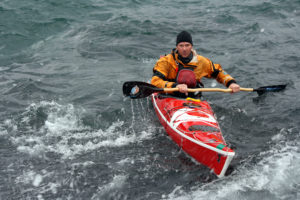 Erik is forever drawn to the water and is truly in his element when paddling. He is equally passionate about sharing the paddling experience through instruction, guiding, and community involvement. Instructing since 1996, the majority of Erik's experience comes from paddling in unsalted Ontario waters.
When on land, you can find him fixing friends boats or painting homes in and around the Toronto area. Erik has a keen interest in fitness and technical paddling skills, as well as open rough-water kayak play.
Current certifications include: WFR, Paddle Canada Level 3 Instructor Trainer, Paddle Canada Level 4 Instructor, ORCKA Canoe Tripping II Instructor, ORCKA Basic Canoe Instructor Trainer, SUP Instructor Trainer, BCU Four Star and Three Star Sea Kayak Coach and a Personal Trainer under the national program of CanFitPro.
Kate Hives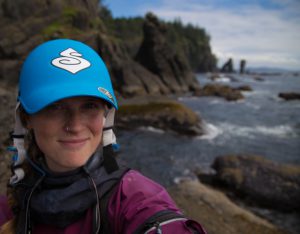 With a quirky and often infectious personality, Kate has a passion for kayaking that began when she was just a wee little Salmon Fry, if you will excuse the coastal reference. Now she cruises the seas paddling surf kayaks, sea kayaks and surf skis in search of her next grand adventure.
Kate grew up in midst of the rocky playgrounds and long sandy surf beaches of Vancouver Island, BC, so it is no surprise that she is now pushing the limits of 'longboat' surfing as a member of The Hurricane Riders. Kate is a coach with SKILS and holds certifications as a Sea Kayak Guide Trainer and Examiner with the Sea Kayak Guide's Alliance of British Columbia, Paddle Canada Sea Kayak Level 2 Instructor and Level 3 aspirant.
She brings over 20 years of experience in outdoor education and coaching combined with solid technical boating, safety and seamanship skills, giving her programs their own unique style. Kate is fluent in Spanish and English.
Costain Leonard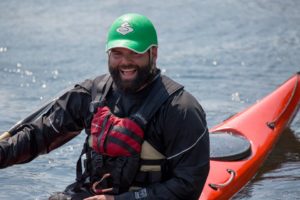 Costain's introduction to paddle sports was through a flatwater racing club. Shortly thereafter he discovered sea kayaking and began to explore the many flavours of paddlesports. Costain taught canoeing and kayaking in the freshwaters of Ontario for a decade. He flirted with paddling on the west coast for a couple of years and eventually relocated to BC.
A multifaceted teacher, Costain's instructional experience ranges from recreational youth and adult courses to instructor and leadership programs. He seeks out unique paddling environments and loves to challenge what has traditionally been done in sea kayaks.
Costain has sought instruction and inspiration from many paddling communities. He is excited to keep sharing his passion for paddle sports. Costain is a SKGABC Level 3 Guide, Paddle Canada Sea Kayak Level 4 Paddler, Level 4 Instructor, Level 2 Instructor Trainer, and Intermediate Tandem Canoe Instructor. Costain is fluent in French and English.
Laurel Archer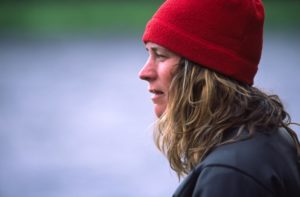 Laurel is a SKGABC Examiner, Guide Trainer and Level 4 Sea Kayak Guide, Paddle Canada Level 2 Sea Kayak Instructor, Paddle Canada Instructor Trainer in Moving Water Canoe, Lake Canoe and Canoe Tripping, RCABC Master Instructor, Canadian Power and Sail Squadron ROC (Maritime) Examiner, Swiftwater Rescue Technician, and PADI Open Water Diver.
Currently living in the Comox Valley on Vancouver Island, she's paddled more waterways than she can remember from Central America to Asia and the South Pacific, including competing in some of the most challenging and longest canoe and kayak races in the world.
Besides writing a thesis for her Masters degree in Distance Education, she's penned three guidebooks based on her extensive experiences exploring and guiding on rivers in northern Saskatchewan and British Columbia, as well as published numerous articles, short stories, and poems.
Laurel is a member of the International Explorers Club and Royal Canadian Geographical Society, inducted for her work in documenting historic and lesser-known waterways and her efforts to promote their conservation. Her career goal is to never have a "real" job. After three decades of working on the water, she is still on track!
Gary Doran
It's with very deep sadness in our hearts that since May 2019 we are coping with the loss of a dear friend and work colleague at SKILS. For the past 2 years Gary Doran has been battling with cancer. Gary has been teaching and guiding for over 2 decades to thousands of recreational kayakers, professional guides and instructors. He was one of only 3 individuals to reach the highest levels of certification with the SKGABC and Paddle Canada. With his partner Janette, he was also the driving force behind the Pacific Paddling Symposium, an incredible community based event. Gary has inspired and educated so many kayakers. From students and colleagues, some things that stand out above everything are Gary's outstanding professionalism, calm demeneor, his humility and how easy going it is to work with him. Gary spent most of his professional career working for Ocean River Sports in Victoria and for SKILS, where until recently he was the office manager. Many of us had the chance to interact or do one or many programs with Gary. Gary has inspired and educated so many kayakers. From students and colleagues, some things that stand out above everything are Gary's outstanding professionalism, calm demeneor, his humility and how easy going it is to work with him. Gary is also the best note taker ever. A fun fact about Gary: when Gary came back from a long program guiding or teaching in the field one of the first things he did was to go for a long run or to the gym. Gary had a very healthy life style. Not many people knew his real age before his battle with cancer. He always looked much younger than his natural age because of this healthy lifestyle. During his battle with cancer for the past 2 years his long time partner Janette Galan has been a rock and an example of support and love. Janette you are a golden nugget! Gary you have left us too soon, we will dearly miss you. It was a real pleasure paddling by your side. Goodbye Friend, Teacher, Guide and amazing beautiful human being.
Kevin Bradshaw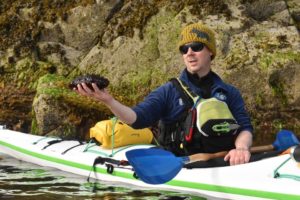 Kevin lives in Ucluelet, British Columbia, where he has been a professional Sea Kayaking Guide for the past since 2001. Kevin is a Level 3 Guide and Guide Trainer with Sea Kayak Guides Alliance of BC (SKGABC) and a Paddle Canada Level 2 instructor.
Kevin is currently Head Guide and Operations Manager for Hello Nature Adventure Tours and over sees training and safety for the company.
Kevin has paddled in numerous destinations around Vancouver Island, Costa Rica, Indonesia. The one place that Kevin truly calls home is the Broken Group Islands in Barkley Sound, British Columbia.
Leah Blok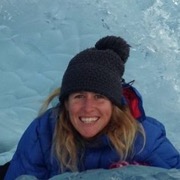 Leah lives in Squamish, British Columbia, Canada. She has more energy and passion for people, wildlife and life than anyone we have ever had the good fortune of knowing!
She is an avid triathlete and has paddled solo from Alaska to British Columbia and all over Europe. She has also led trips in Baja, Mexico for many years. She adores sharing her passion for paddling and whales with paddlers of all skill levels. Paddlers of all ages enjoy her boundless energy and knowledge and are inspired by Leah.
Leah is a BCU Level One Coach and a SKGABC Level 3 Sea Kayak Guide.
Lana MacInnis
Lana is a guide and outdoor environmental educator who loves to share her experiences with people of all ages, fostering new perspectives, appreciation, and understanding of the natural world and our interaction within it. This prairie girl originally got hooked on the coastal lifestyle in her youth through regular surf trips out to Tofino. Before setting up camp in BC in 2012, Lana's adventures lead her to crew on sailboats around Europe, surf icy waves in Norway, canoe jungle rivers in Bolivia, share remote surf and dive beach campsites with monkeys in Indonesia, and swim with whale sharks in Western Australia. (Note the water based theme).
After many years exploring, travelling and living in different countries around the world, the wild, rugged mountains, trees and seas of the pacific northwest coast has called Lana back to Canada. Her cool, calm and laid back personality resonated perfectly with the west coast vibe and she has now made Ucluelet, BC on Vancouver Island her home.
Lana shares her passion for the ecologically diverse west coast with great enthusiasm when talking about the local plant, wildlife and cultural heritage be it while out on the water, exploring tide pools or sitting around the campfire.
She is a certified SKGABC Assistant Overnight Guide and is looking forward to another exciting season! Lana holds a Bachelor of Education, specializing in Science, so when she is not out guiding on the water, she is at the Ucluelet Secondary School shaping young minds, while the students try to keep her up to date on the latest hip trends.
Amy Benskin
Amy's love for the water began as a sailing and scuba diving instructor in her hometown of Victoria. Her passion for watersports has led to a career that allows her to share her love of nature and drive for adventure with youth and adults who are striving for the same. Amy is a graduate of TRU's Adventure Guide Diploma and Bachelor of Tourism Management, and is currently pursing a PDP in Secondary Education for Math and Computer Science.
When not working with SKILS, Amy spends her time as a lead sea kayak guide in Gwaii Haanas National Park Reserve in Haida Gwaii, a whitewater kayak / canoe and sea kayak instructor for the Canadian Outdoor Leadership Training program (COLT), and a whitewater kayaking instructor for TRU's Adventure Program. She also teaches scuba diving for Rockfish Divers in Victoria and is a SVOP certified boat captain. Amy is a SKGABC Level 3 Guide and Guide Trainer as well as a Paddle Canada Level 2 instructor.
Finn Steiner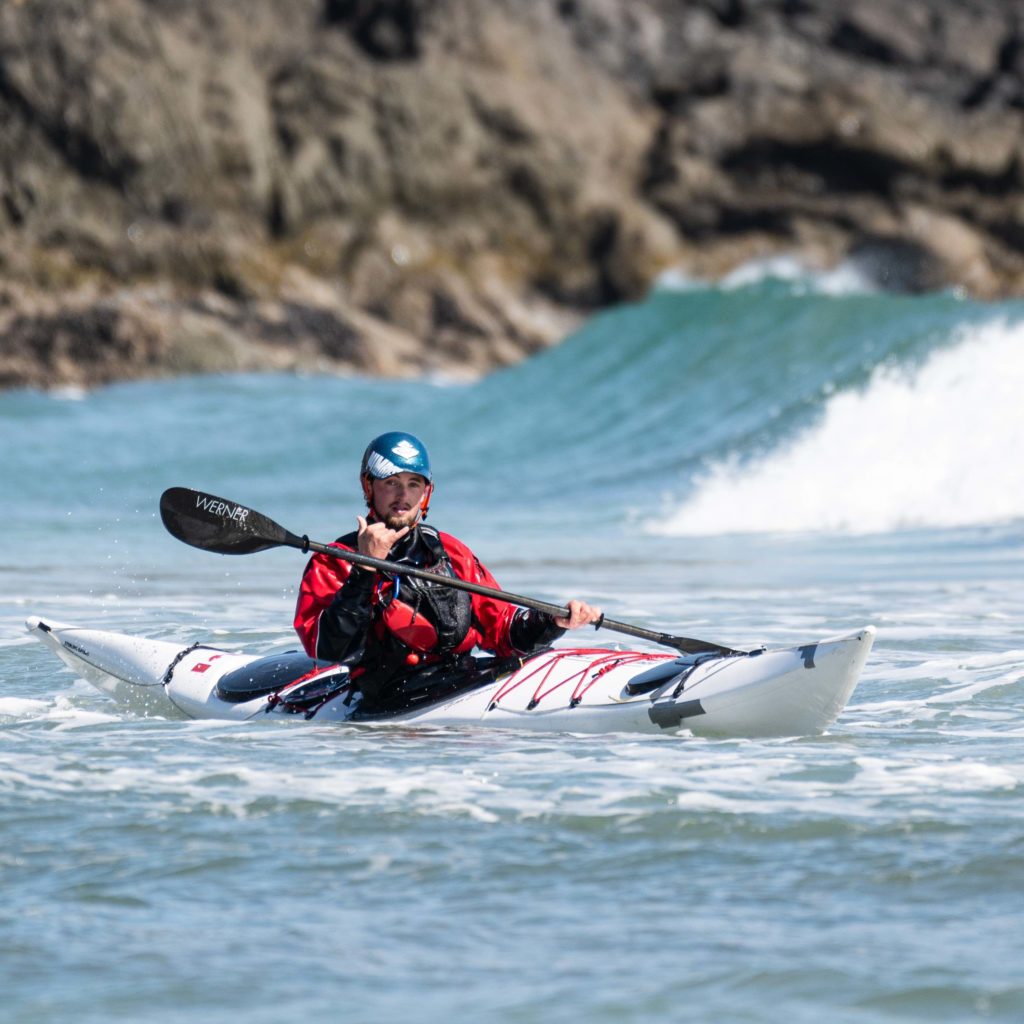 Raised in Victoria, BC, Finn has been paddling kayaks his whole life, and guiding for nearly a decade. He is an apprentice SKGABC Guide Trainer, Level Three Guide, and Paddle Canada Level Two Sea Kayak Instructor, and Assistant Bear Viewing Guide. Finn has led sea kayak expeditions spanning both hemispheres, from Haida Gwaii, to Patagonia, New Zealand, and Antarctica. He has also competed internationally in sea & surf kayaking competitions, and still holds his record youngest solo circumnavigation of 800-mile Vancouver Island at age 17 to this day. Apart from looking for new standing waves and exploring, Finn's enthusiasm for paddling can only be matched by his passion for storytelling as a photographer and writer. With a primary focus on persecuted wildlife and expedition narratives, Finn can often be found behind the lens with a big smile on his face. Using photos as a medium to connect people with their environments has resulted with his work appearing on the cover of Ocean Paddler, with articles published in Paddle World, Sea Kayak Magazine, and Canadian Geographic. Finn lives in Ucluelet, Canada, mere minutes from the surf. Fluent in German and English.
Duncan Mack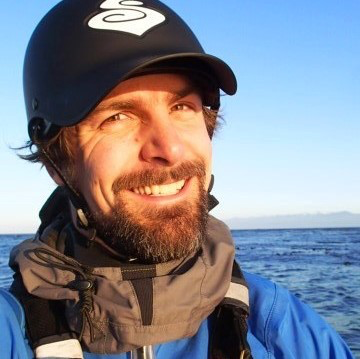 Duncan has been living on Vancouver Island working as a wilderness guide and outdoor educator since 2007. With a background as a snowboard instructor, forest fire fighter, camp counsellor, river canoe guide, and highschool teacher, Duncan helped develop and facilitate Power To Be's Wilderness School program for youth at-risk. During his decade there, he fell in love with sea kayaking as an outdoor pursuit and has loved sharing this passion with others ever since! As a educator and natural storyteller, he strives to teach all that he can about paddling, kayak culture, and Vancouver Island during his trips. Duncan is stoked to work with new guides just starting out in the industry and loves helping clients achieve new skills while gaining wonderful experiences. Duncan was a past Executive Director of the SKGABC and now serves on its Executive Board. He is a SKGABC Level 3 Guide, SKGABC Guide Trainer, Paddle Canada Level 2 Sea Kayak Instructor, Stand Up Paddleboard Instructor, and Big Canoe Leader.
Willi Fast
Born and raised in Alberta, Willi has been a life-long outdoor enthusiast. His pursuit of adventure began with summer backpacking explorations in the Rockies. Initially a downhill freestyle skier, Willi turned his winter focus to ski mountaineering and nordic track skiing. He became a CANSI Certified nordic ski instructor and coach and trained himself to become a long distance loppet skier. An interest in endurance sports initially began with marathon running and triathlon , but soon focused purely on cycling, where he went on to compete internationally in long distance ultra-marathon cycling events. Water sports drew Willi first to lake canoeing in the Boreal north of Alberta and Saskatchewan, and he also moved on to whitewater canoeing and kayaking. Willi is a professional forester with a Master of Science degree in Forest Genetics, and adopted sea kayaking as his new passion when he moved to Sidney on Vancouver Island. Diving in headlong, he has paddled extensively in all of the classic sea kayak areas around Vancouver Island. He holds Paddle Canada Sea Kayak Level 2 Instructor. Willi enjoys sharing his passion for west coast ocean kayaking with students and friends, and is most happy when engaged in extended solo- or small group kayak tours. Willi is fluent in German and English.
Patrick David
As a lifelong adventurer, Pat has spent much of his life on the water or in the mountains. He has a passion for the outdoors and loves to foster that passion for the outdoors in others through teaching. He served the country in the Canadian Special Operations Forces for over 20 years, where he did tours in Bosnia, Somalia, and Afghanistan. He loves to paddle the dynamic water off the coast of BC, with one of his favourite places being the infamous Okisollo wave, off Quadra Island. When not on dynamic water, he also enjoys kayak touring…. And has aspirations of doing a kayak tour around Haida Gwaii and the south coast of Newfoundland. His other love is the mountains, where he has climbed summits like the Eiger, El Capitan, several first ascents on Vancouver Island and Canada's highest peak, Mount Logan, done as a tribute to the soldiers lost in Afghanistan. In his spare time Pat volunteers as a diver to install and maintain hydrophones, for Fisheries and Oceans Canada's Whale Tracking Network, which is used to track and protect at-risk whales off the BC coast. Patrick is a Level 2 instructor and a SKGABC Assistant Overnight Guide.
Faroe Des Roches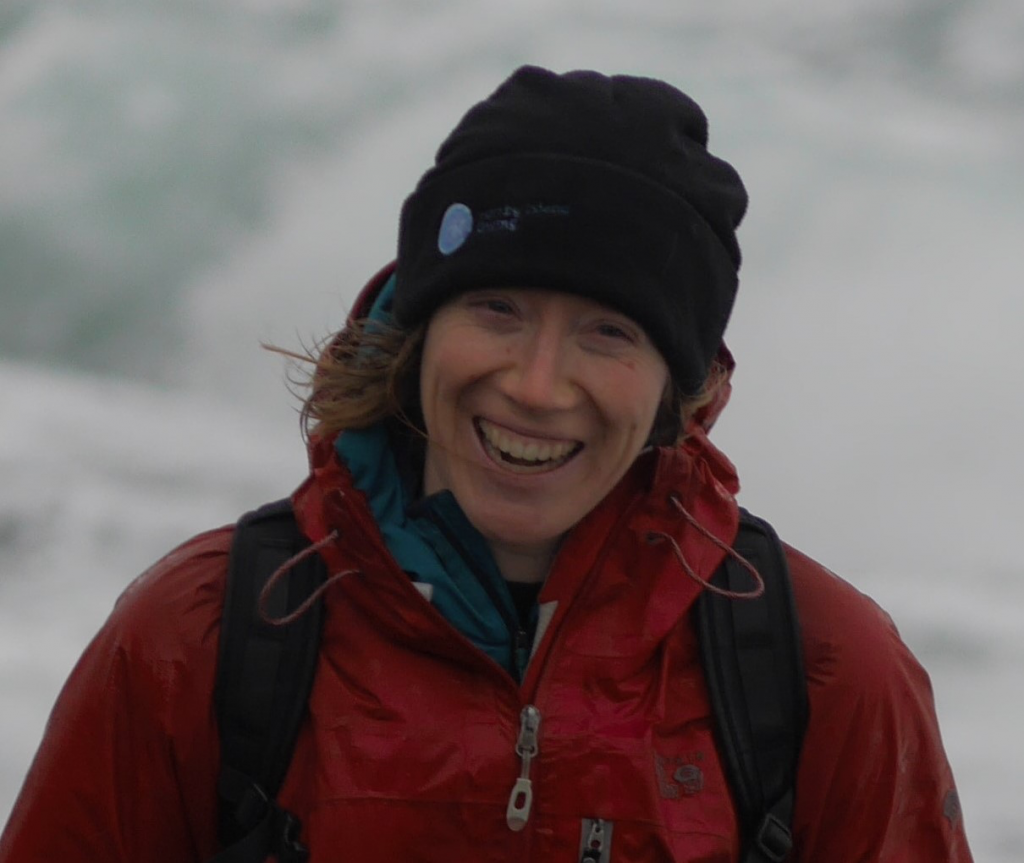 Faroe was raised on the sea air and rain of coastal BC; the environment encouraged her amphibious tendencies. She took her first sea kayak instructor course in 2004, and her passion and profession have been enmeshed ever since. Faroe is a Paddle Canada Level 2 Instructor, Level 1 Instructor Trainer and Level 4 Skills, as well as a SKGABC Level 3 Guide and Guide Trainer. She is also a sea kayak Course Leader with NOLS, a Leave No Trace Master Educator, and a Registered Examiner for Maritime Radio. Faroe was a member of the Pipedreams Project paddling team, as well as co-director and co-producer of the award-winning short film by the same name. She has recently led sea kayak expeditions in British Columbia, Alaska, Baja California and Patagonia.ja California. Faroe is fluent in French and English.
Andrew Woodford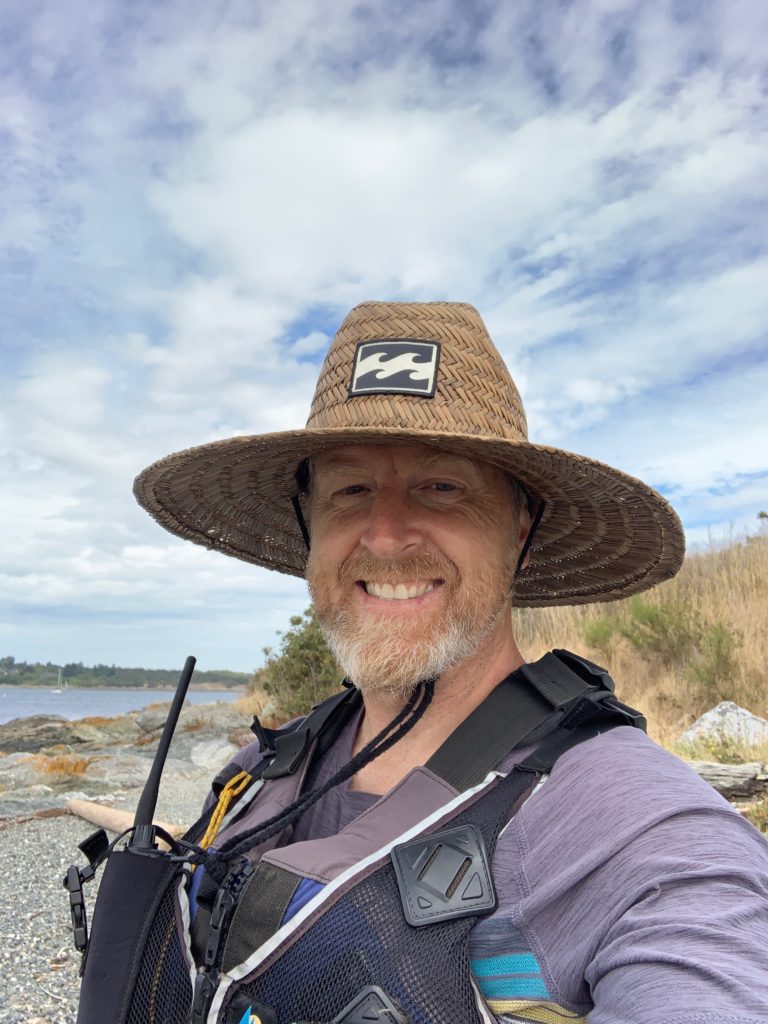 Born near the foot hills of the Himalayas, Andrew has had a lifelong passion to search out new experiences through adventure. Always looking to add value to what he does. He helped lay the foundations during the startup of SKILS, as well as helped start up a white-water kayak company and "Power to Be"; an adventure based company that removes barriers to create access to nature for its clients. Andrew was lucky enough to be involved in the early inception of the Paddle Canada sea kayak program – running training and development courses across the country in the early 2,000s. He held a number of sea kayak certifications including a Paddle Canada sea kayak level 4 instructor and was a Level 2 Instructor Trainer. He also guided for many years on both the West and East coast of Vancouver Island while holding a Level 3 Lead Guide certification with the Sea Kayak Guides Alliance of BC and he was helping run many guide training courses during that time. Over the past decade Andrews passion grew for Stand-Up Paddling where he gained certifications as an advanced flatwater and level 1 SUP Surf Instructor. In Addition, his knowledge for the paddle sports industry is extensive as he spent 14 years as the trainer for paddling, climbing and camping manager for Mountain Equipment Coop in Victoria BC. Andrew is an author and illustrator focusing some of his work on his guiding and teaching knowledge. When not searching out the perfect wave, touring by SUP, or finding a new climbing route, he can be found, brainstorming, Illustrating and searching for new adventures with his family.