We do our best to equip all our paddlers with the brands and models preferred by the top kayak guides and instructors. We're proud to offer paddling products from Kokatat, Stohlquist, Mustang, Werner, and North Water among others and a huge fleet of top performance kayaks! The rentals are only for participants enrolled in SKILS programs in the Ucluelet (Barkley Sound) or Tofino (Clayoquot Sound) areas as well as our long expeditions (7 days and over). No exceptions.
Kayak Rentals:
For $50 per day plus tax, you receive your kayak, PFD, paddle, spray skirt, throwbag/towbelt, pump, and paddlefloat (plus helmet on courses that require one). Your rental includes one of our top of the line kayaks (most are skegged kayaks with several ruddered kayaks available as well) as well as our premium paddling gear. We strive to provide quality equipment to our clients that is the same gear that we use and love as well instead of offering cheap outfitter models. Please make sure your rent your equipment at least 7 days before your program starts. If you rent your equipment less than 7 days before your program starts, we might not have the equipment available for you. Please see a list of the possible equipment below. No refund for cancellations made 7 days before your program. Otherwise, a cancellation made 8 days or more before your program, a $50 administration fee applies.
Kayaks
SKILS prides itself on offering quality kayaks that you will be excited to paddle and that can take you to the next level! SKILS has an outstanding fleet of kayaks from manufacturers such as Sterling, P&H, Valley, Seaward, NDK, and Boreal Designs. Offering a variety of high performance kayaks for playing in dynamic waters to expedition tested touring kayaks, we have the right kayak to meet your needs and support you during your course or tour with us.
For 2023, the SKILS kayak fleet consists of the following:

Kayaks marked with an (*) indicate part of our premium fleet and cost $75 per day plus tax for rentals.
SOT for Kayak Fishing
Paddling Equipment
Below is a breakdown of some of our paddling gear available. Please note that apart from our premium paddles, we do not offer a choice of equipment, rather we give you the equipment that fits your size and kayaking activity best.
PFDs
Kokatat: Guide, Ronin Pro, Maximus, MsFit, Orbit
Skirts
Brooks: Neo Tour Adjustable Skirt in 1.7 and 1.4
Seals: Neoprene Shocker Skirt in 1.7
Pumps
Aquabound: BilgeMaster Pump
Paddle Floats
North Water: Paddle Float
Seattle Sports: Inflatable Paddle Float
Throwbags
North Water: Micro Throw Line,
Towbelts
North Water: Sea Tec Tow Line, Micro Tow Line, Dynamic Tow Basic
Helmets
Sweet Protection Wanderer
WRSI: Current
Predator: Full Cut Helmet
NRS Havoc Limery
Paddles
Werner: Skagit#, Ikelos*, Camano*, Double Diamond*, Twist*
Mitchell Blades: Bombara*, Atlantis*
Wooden Greenland Paddles*
All our paddles are between 200-220cm.
Paddles marked with a (#) are our regular rental paddle included with kayak rentals.
Paddles marked with an (*) are our premium paddles and cost an extra $5-10 per day plus tax for rentals. Please note that we have a variety of straight and bent shaft models available.
Immersion Wear
Wetsuits
At SKILS, we offer full winter surf wetsuits for general use on our courses and expeditions. These suits have been designed with cold water surfing in mind and were developed specifically for use in the Pacific Northwest. These full suits offer warmth, flexibility and some flotation. All of our wetsuit rentals come with neoprene booties as well. During colder seasons, we throw in neoprene hoods and gloves at no extra charge.
Wetsuit Rental
Wetsuit rentals cost $15 per day plus tax and come with neoprene booties.
A wide variety of full wetsuits in both men's and women's from Excel. All are at least 5:4mm (some of the women's models are 6:5:4mm).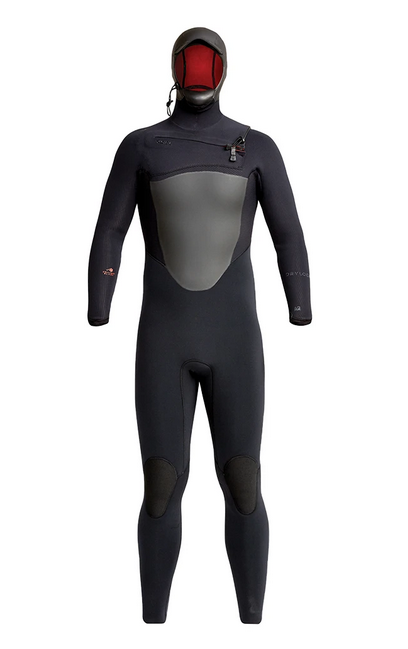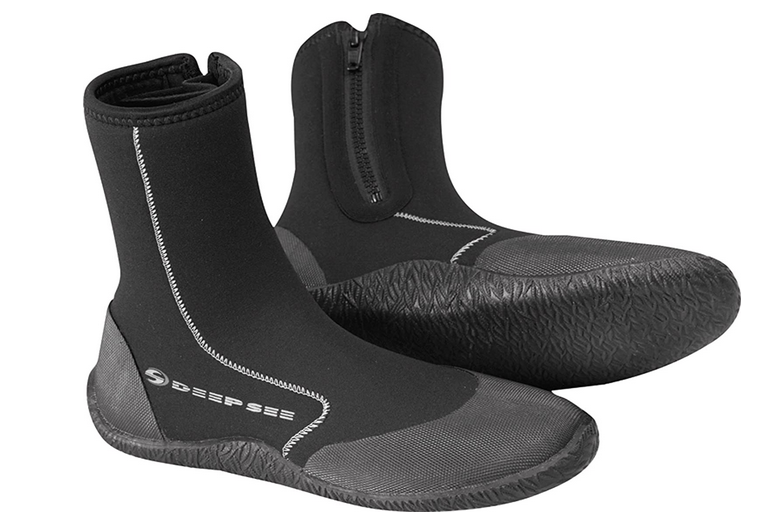 Drysuits
We are proud to offer drysuits from many of the top kayaking drysuit providers to our clients. Drysuits keep the paddler entirely dry except for the hands and head – making paddling in extreme weather conditions much more enjoyable! While wetsuits work by insulating a layer of water next to your skin to keep you warm, drysuits keep you dry allowing you to wear all the thermal protection underneath that you require. All our drysuit rentals come with neoprene booties. Please note that some of our drysuits have latex in their waterproof gaskets. Some of our drysuits have a neoprene neck gasket rather than a latex gasket. Drysuit rentals have limited quantities and are available on a first come, first served basis and are assigned based on available size.
Drysuit Rentals
Drysuit rentals cost $50 per day plus tax, or $300 plus tax for the entire duration of your program – whichever option is cheaper! Drysuit rentals include neoprene booties.
Kotatat: Meridian
Mustang Survival: Sentinel
Stohlquist: Amp, EZ, Shift
Peak UK: Explorer, Whitewater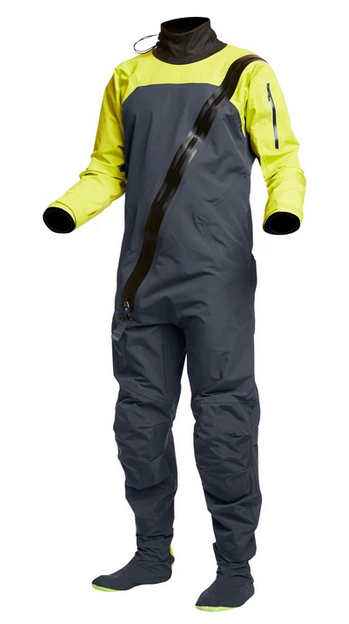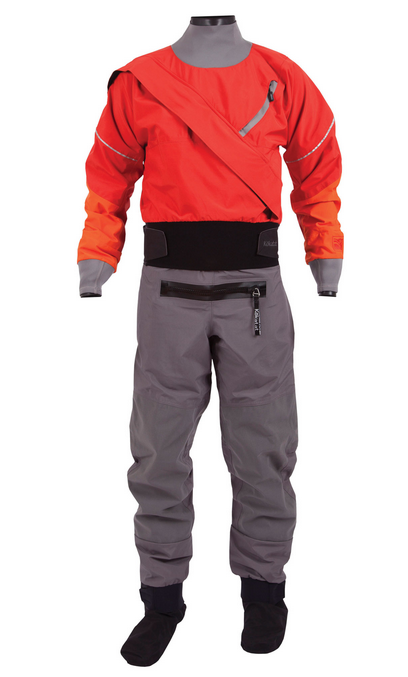 Rental Drysuit Information
Trying on a drysuit for the first time can be awkward. This is a small price to pay to remain dry in a wet and cold environment. For many paddlers, a drysuit is probably the most expensive piece of equipment you will buy after purchasing a kayak. Proper care is needed to keep your investment dry. Take care of your gear and your gear will take care of you.
Time to play, get dressed up!
Before putting on a drysuit, remove rings, earrings, watches and other sharp objects that might tear a gasket. Take your shoes off and keep your socks on.
Most of the damage in a drysuit occurs near the feet so give this area a lot of care. Always put on and remove your drysuit on a clean surface protecting the socks, and do not walk in the drysuit without shoes. Tiny particles between your footwear and the drysuit feet create a lot of stress on the fabric. Sand grains inside or outside the drysuit sock act like sandpaper. Even a small unseen branch or rock on the lush inviting grass can puncture a pin hole through the drysuit material.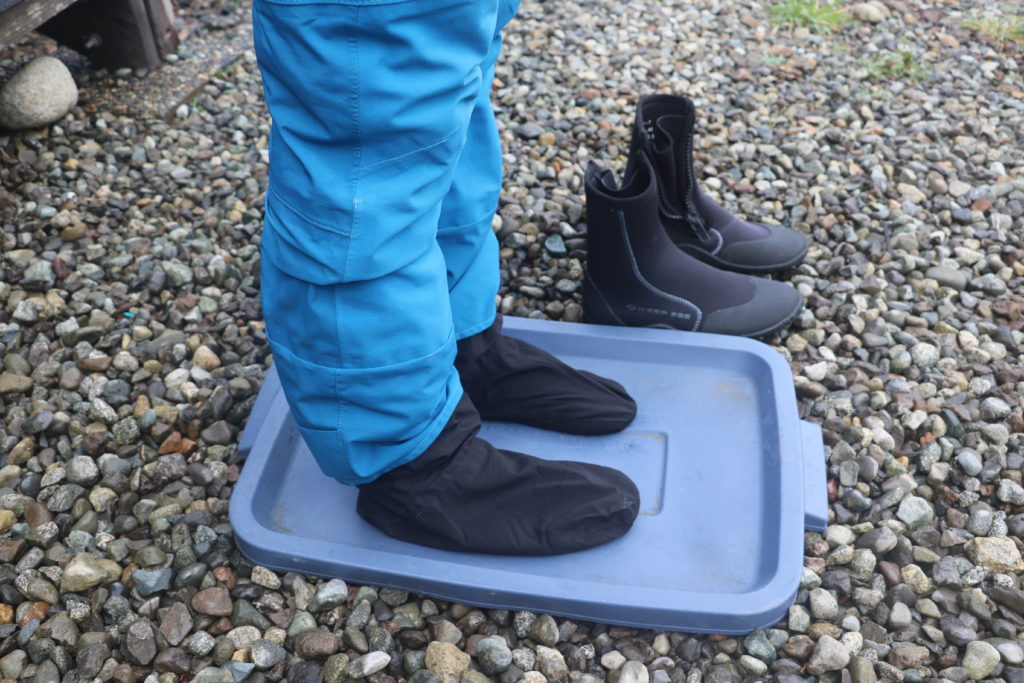 When putting on the suit, slide your toes to the end of the drysuit sock. Pull the rest of the fabric up the ankle, then immediately put on your paddling shoes. Your shoes should be snug! Crocs and drysuits are a bad mix. A loose shoe or very flexible shoe puts a lot of stress on the foot seam, which is where the majority of drysuit leaks occur.
When you slide your right arm into the right sleeve, stretch the gasket open with your left hand. Do not pull the gasket over your right hand by pulling on the fabric or from the base of the gasket. Repeat the same step for the other arm. Use the same care when removing the arms. Breaking a wrist gasket can result in a $100
repair bill, please be careful.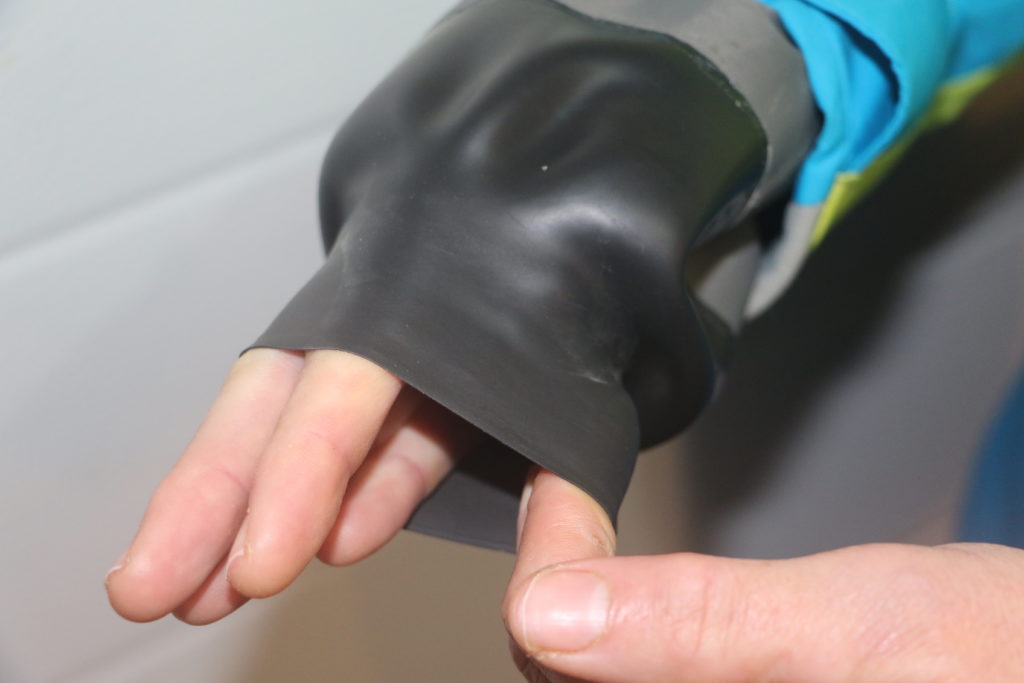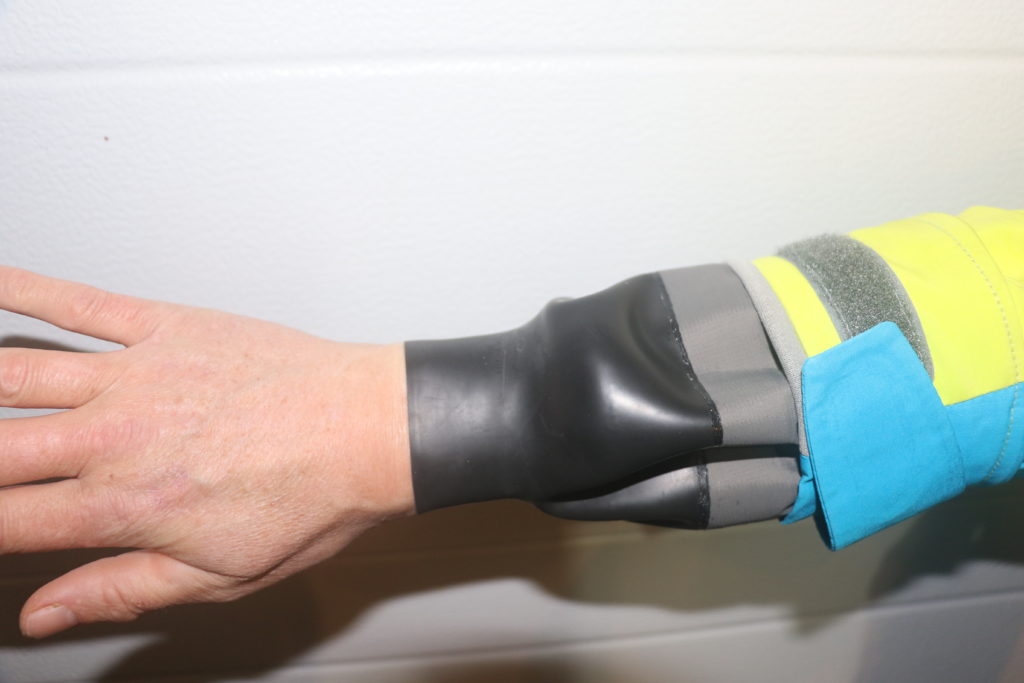 With both hands, grab the opening of the neck gasket and stretch the gasket a bit while ducking into the suit and up through the neck gasket (this should be one motion). Do not pull the gasket over your head by pulling on the fabric or the base of the gasket. (Use the same care when removing it.) Breaking a neck gasket can result in a $120
repair bill, please be careful.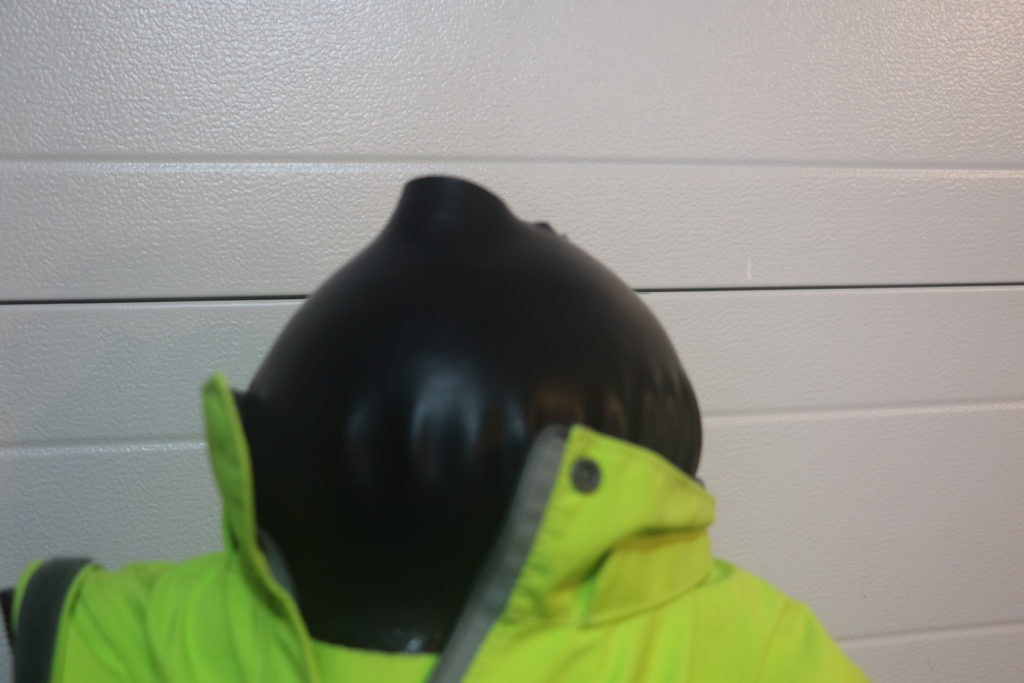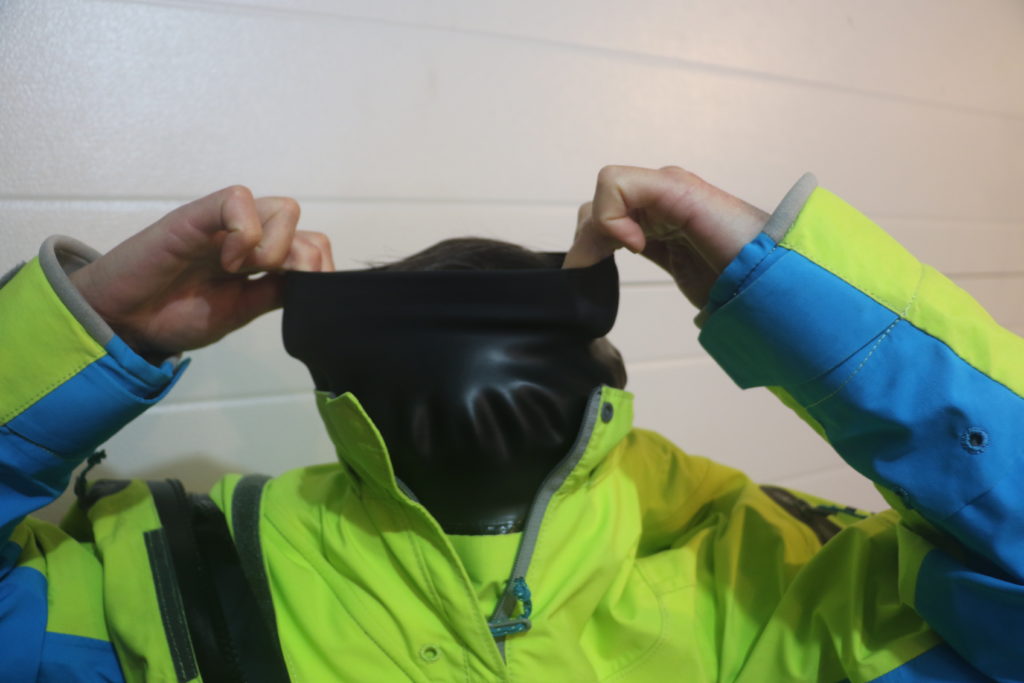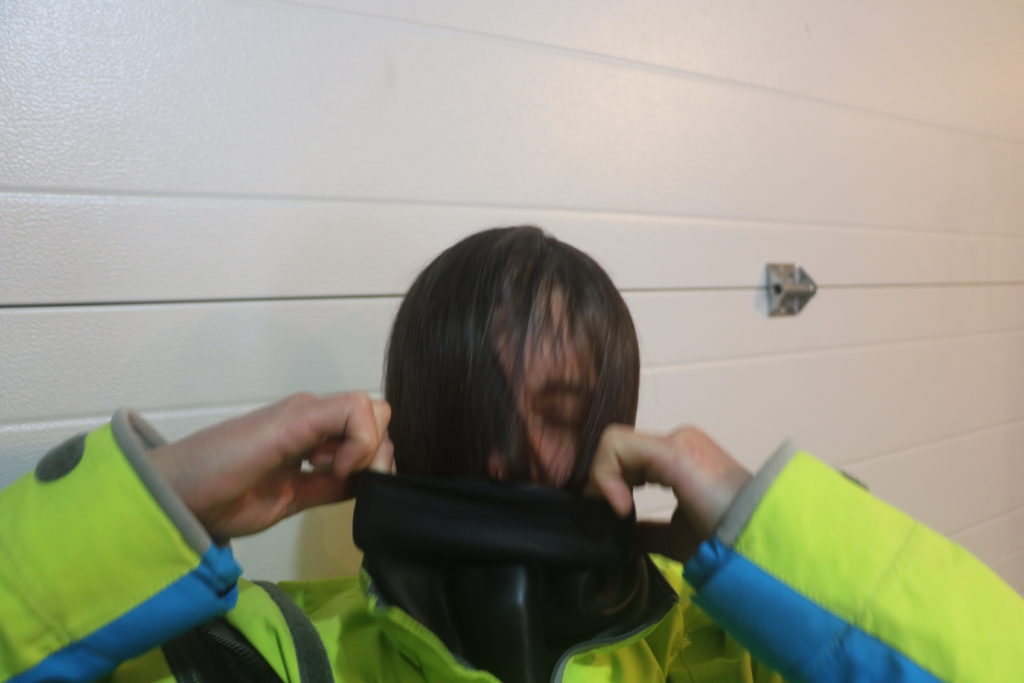 Be nice with your zippers!
The zipper is one of the most sensitive components of your drysuit. Treat it carefully. The most common cause of drysuit leakage is failure to close the zipper completely. Visually inspect the zipper of your drysuit when you close it, to make sure it's zipped up completely. Another classic rookie move is to forget to zip up the relief zipper of your drysuit.
Below are tips for being nice with your zippers.
Ensure there is no dirt, sand or debris in the zipper teeth.
Pull the zipper in a straight line, in a smooth and even motion. Avoid yanking or pulling to the side.
If your flexibility makes it hard to operate your zipper, have another person help you, or attach a piece of string to the zipper that you can reach.
Never force a jammed zipper. Unzip it, examine the jammed section for an obstruction or damage. Forcing a zipper could derail the teeth.
Open the zipper completely when putting the drysuit on and off to reduce the stress on the zipper.
It is very important to keep sand and dirt out of the teeth and the closing end of the zipper. Tiny debris could compromise the waterproofness. The best way to clean a dirty zipper is using mild soap, water and a toothbrush.
Gaskets can be latex, neoprene or other materials. Latex gaskets are the most waterproof but as not as comfortable as neoprene or adjustable neck gaskets. An adjustable gasket which cinches, like on Mustang drysuits, has the advantage that it can be loosened while you are touring but you can make it tighter when you expect rougher water or an imminent capsize. A neck warmer is great to wear for absorbing any possible leakage from a cinching neck gasket.
Latex gasket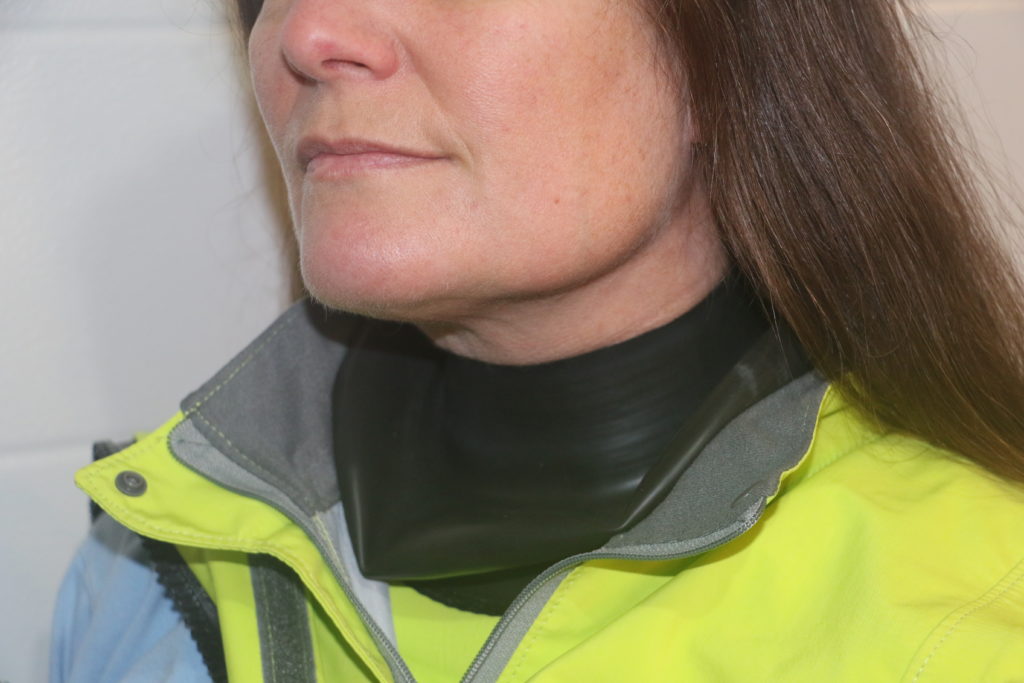 Neoprene gasket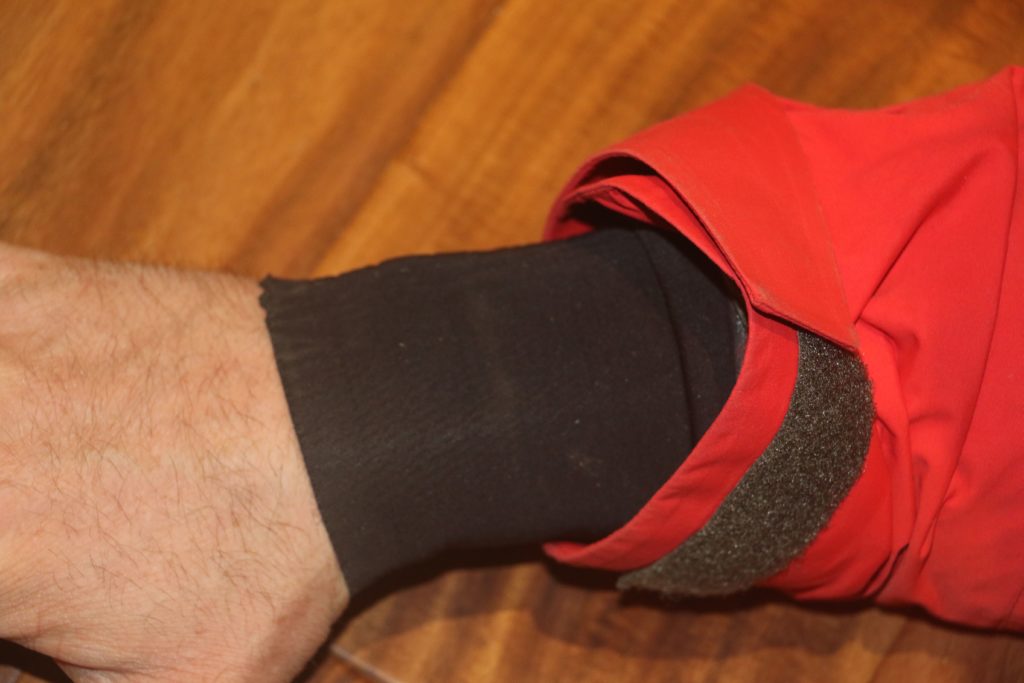 Other material gasket
Tips to take care of your gaskets
Keep your fingernails short as they could puncture the gaskets.
Avoid direct contact with the sun and sunscreen as it deteriorates the gaskets, especially conventional latex gaskets.
Some latex gaskets create rashes on some types of skin. Apply shea butter on your skin to reduce the rashes.
Cleaning your drysuit
When playing in a saltwater environment, rinse your drysuit with fresh water after every use when possible. Hang it to dry.
Storage
In the field, try to hang your drysuit in a tree or on a clothesline. Make sure you hang it so that any rain does not infiltrate to the inside of your suit. Remove any wrappers and traces of food otherwise rodents and racoons will make holes in this precious piece of equipment.
Other tips
Avoid bushwacking with your drysuit as sharp branches or spiky shrubs will have no mercy for your expensive piece of kit.
An efficient and cheap footwear solution is an old pair of runners that is oversized for land activities. While paddling, you can wear them over your socks and drysuit.
Conclusion
We hope this section did not discourage you to use a drysuit. Taking great care of your equipment will extend its life expectancy. Furthermore, a drysuit will enable you to extend your paddling season and maybe pursue some adventures in more challenging environments. Remember, take care of your gear and your gear will take care of you!