Our Philosophy
Fun
We encourage a high degree of experimentation and play in our work, which translates into a fun and dynamic learning environment. We focus on the principles behind the skills and knowledge, and not just the skills themselves.
Unique
Our unique business model pairs us with the best people and organizations in coastal recreation. Our unique range of services places SKILS at the leading edge of paddle sports in Canada and globally. No one offers the same diversity and depth of programs.
Rewarding
We challenge clients and staff to explore and question their paddling skills, their knowledge of the world around them, and their relationship to paddling. Through this exploration, you will achieve a strong sense of personal accomplishment and growth. These are the rewards of a SKILS program.
Our History
SKILS was founded in 2003 by Piper Harris, Michael Pardy, and Andrew Woodford and JF Marleau joined the team in 2004. Our goals were simple; we wanted to teach more challenging paddling courses and work with the best paddlers across the country to foster a strong Canadian paddlesports community. To achieve these goals we realized we needed to do a few things differently.
We don't compete with other canoeing and kayaking businesses. Instead, we work with your organizations to train your staff, develop local talent, and make sure our skills and knowledge are shared with others.
We travel to work. This way, we are exposed to a wide range of paddling environments and the best Canadian paddlers. This fosters an exchange of ideas and serves to strengthen the paddling community. It also means we are constantly asked to justify our ideas, develop new ones, and keep an open mind.
We don't pre-schedule a lot of courses. Instead, we work with groups and individuals to design custom programs to meet their schedule and needs.
At the beginning, our goal was to run SKILS for only 3 years, then move on to something different. We obviously failed at this. Many people were skeptical about our plan that focused mainly on teaching more advanced courses and professional courses for guides. Some people were also laughing about our idea and our way of life when they saw us traveling across the country to teach sea kayaking courses with our hippy van, Betsy, and our new-to-us aluminum trailer.
A very significant percentage of the courses we are currently offering are unique in Canada. Furthermore, SKILS was also the first in the country to offer many of the other courses we are currently teaching. Over time, a few organizations tried, with different level of success, to copy us at many levels and play catch up. Consequently, our commitment to innovation, best practices, best staff and quality will continue to make us different.
Our unique business model pairs us with the best people and organizations in coastal recreation, including retailers, outfitters, schools, and manufacturers. Our unique range of services and wide network of relationships places SKILS at the leading edge of paddlesports training in Canada and globally. No one offers the same diversity and depth of programs.
On December 31, 2013, SKILS had an organizational restructure. Piper, Andrew and Michael stepped down as owners, but remained as the brain trust. This left JF as the sole owner of the company. Throughout their partnership and the challenges of running a busy business, Michael, Andrew, Piper and JF always remain good friends.
Michael continues to teach for SKILS in a reduced capacity. He also teaches at Camosun College and Royal Roads University. Andrew and Piper stepped down from being very active in the paddling industry to dedicate themselves more to their family.
In 2017, Justine Curgenven stepped in to help JF manage SKILS. As well, Gary Doran took a more active role in managing the office. Sadly, Gary died of cancer in May 2019. Gary was very loved and we will miss him deeply. Gary was given life achievement awards from the SKGABC and Paddle Canada for is outstanding professional work. He was an amazing teacher and guide. To read more bout Gary click here.
In 2019, Duncan Mack and Amy Benskin stepped in help to manage the office, in addition to teaching and guiding. Since 2003, when Ben Garrett was the first staff to be hired, to now, many amazing staff have worked and continue to work for SKILS.
Of those who stopped working for SKILS, it was because they retired from the paddlesports industry completely. Our staff is the backbone of the company. They are the catalyst to provide an outstanding experience to each participant, and the reason participants go back home very inspired. Thank you.
Over the years, we have continuously expanded the number of programs we offer. The main challenge to our growth is finding enough staff that meet our high expectations of professional standards. Each of our team is personally and deeply committed to paddling. This commitment is backed by at least 10 years of personal and professional experience, high levels of certification, and a strong reputation. But even that's not enough for us—all of our team also actively work to support paddling through a variety of activities that include writing blogs, make inspiring videos, articles and books, sitting on Boards of Directors, volunteering time with youth programs and local clubs, and running paddling programs for other organizations.
Important Values to SKILS
Safety
Highest quality standards for our programs
Attracting and developing the best staff in the industry. We strive to pay the highest wages in the industry so they can earn a good living.
Giving back to our community. The thing we are the most proud of is our contribution to the Ucluelet High School Outdoor Leadership Program. We created this program in 2007 and we give at least $7000 per year to it.
Our courses are fun, challenging and rewarding
Innovation is in our nature
Some examples of how innovation is in our nature
We developed training manuals and books that are widely used across Canada.
We were the first company to offer the entire Paddle Canada Sea Kayaking Program
Our staff have made a huge contribution to the curriculum of the Paddle Canada Sea Kayaking Program since its inception
Our staff have made a huge contribution to the creation of the curriculum and exams of the SKGABC since its inception
We created the low impact activity guidelines of the SKGABC
We are the pioneer for kayak fishing courses and expeditions in Canada
We innovated by offering unique programs like our Skook courses.
We have offered online training since 2014.
We were the first in Canada to offer Advanced Expeditions for intermediate and advanced sea kayakers.
As others are copying us, we will keep innovating.
Our logo explained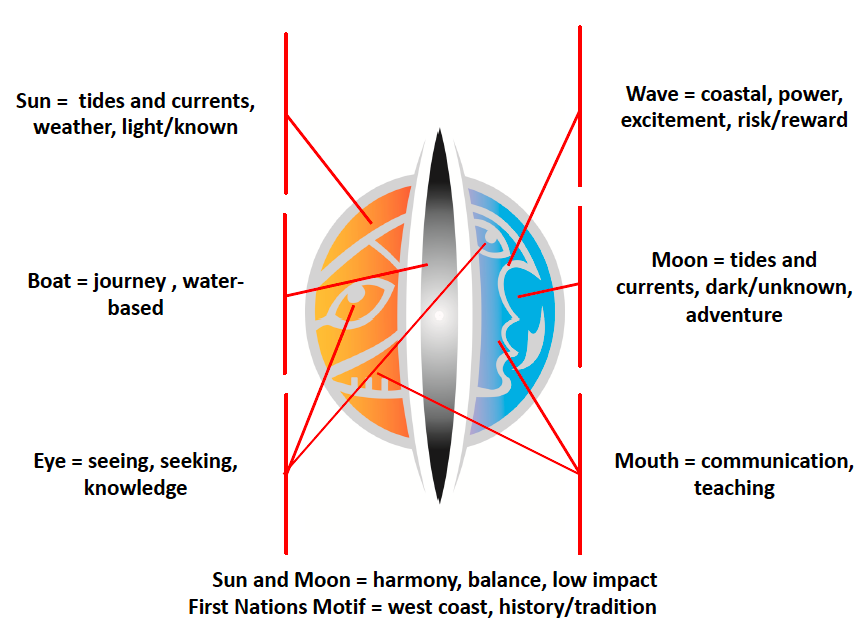 Our Clients and Partners
Over the years, SKILS has worked across Canada and in the US for a wide variety of organizations. Some of our partners include: